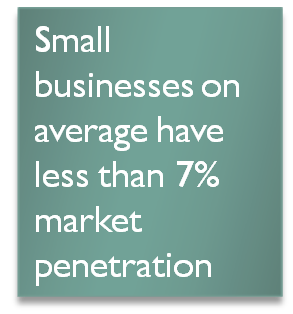 How useful would it be to discover what you don't know about your target markets and competition? 
Start with these four questions –

What do you think is the demand and potential market size for your business?
What do you see when you search for a product or service that you are trying to sell?
What will make my pie bigger, or where can I grow my business?
Who is getting the biggest share of the shelf – the "internet shelf"?
Market Share – What do you Think?
How much demand do you think there is for your product or service?
Look at the market research reports, and trends report for your industry. Look at how many people are searching for the product or service that you are offering. There are a variety of research tools available out there, and many of them are free.
For example, Google Adwords has a keyword research tool, that's very useful. Another handy tool from Google is the Google Ad Planner.
Is the demand for your product growing?
Or, is it changing? If yes, you will need to adapt your business strategy to stay current with the times.
The research online on the internet helps you learn and validate your assumptions very easily.
Market Share – Who do you See?
Search for products and services you offer. Who do you see on the first page of the search engine?
Don't be surprised to see the names you didn't think about. Or perhaps, didn't even know about.
The internet is a huge flatener, as David Mariman Scott explained so well in his book – The New Rules of Marketing and PR … Be aware of new players encroaching in your territory. You could be losing the value on your table without even realizing it.
Market Share – What will make my pie bigger?
While the prospect of someone you don't even know yet eating up your marketing share is a disturbing one, the internet also brings unique advantages to you.

How is that?
Expand your reach to people and geographic locations.
Learn what related products and services have a business potential. Sometimes, it's matter of changing minor things with your product or service. Or even maybe it is matter of simply changing your message.
Market Share – Share of the Shelf
Who is attracting your customers online? This brings you a very valuable insight into how your target audience thinks.
Why?
The answer is simple. What do you do today if you have a question, or if you are looking for something? Search on Google, or Yahoo, or Bing? This gives you a priceless opportunity to see who is getting what share of the search traffic – the "shelf space" in the online world.
I learned a nice term about it from the book of Avinash Kaushik, Web Analytics 2.0 – the Share of the Shelf. Who is claiming more shelf on the internet? In other words, who is making the most of the internet and search engines? Compete has a very insightful report on this that I use all the time.
__________________________________________________________
How do you analyze your target markets and business potential? I would love to hear your ideas on it.